SÃO TOMÉ, THE MIDDLE OF THE WORLD ARCHIPELAGO
São Tomé is an island of wild beauty, still preserved from the rest of the world. Located off Gabon, it was the first African land to cultivate cocoa. When Kaoka's founder first arrived in São Tomé, he fell under the charm of both the country and its people. However, the cultivation of cocoa had been abandoned for many years (following the independence of the island in 1975).
This was in 2001 and everything had to be started from scratch.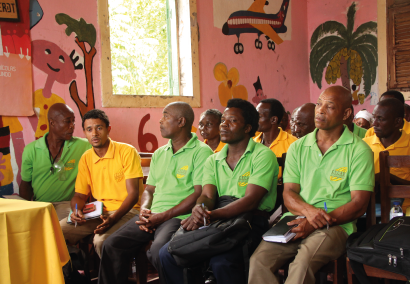 THE CREATION OF A STRONG AND UNITED COOPERATIVE
The growers were brought together in associations, themselves united under a single cooperative called the CECAB, created in 2005. Kaoka organized coordination between communities and organic cocoa production.
The necessary facilities (fermentation boxes, solar dryers and storage rooms) were built to produce São Tomé cocoa in optimal conditions.
RELAUNCHING THE PRODUCTION OF ORGANIC AND PROFITABLE COCOA ON THE ISLAND
The island's cocoa trees, planted over 40 years ago, were getting very old. Sharply declining cocoa production threatened the activity and the income of growers. This is why, in 2012, using the same model as our program in Ecuador, we undertook work to renovate unproductive cocoa plantations.
High-yield, resistant cocoa trees with intense aromatic potential were identified and then reproduced by grafting in nurseries.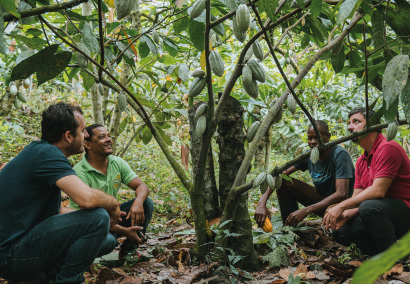 A reserve of seedlings was then made available to growers, who could replant in the empty spaces of their plantations and graft their old trees to give them a second life. Growers were trained in all the necessary agronomic techniques. This was a long-term project that resulted in growers seeing their harvests improve year upon year, and consequently their income.
The project revolutionized the country! CECAB quickly became, and remains, the country's leading exporter.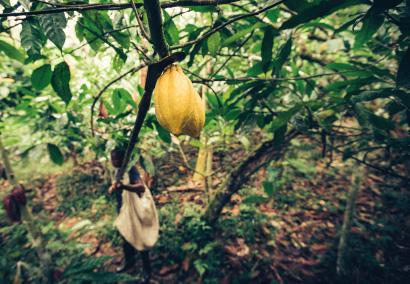 A NATURAL AGROFORESTRY MODEL
On the island, cocoa trees naturally rub shoulders with many other subsistence species (banana, jackfruit, mango, papaya, vanilla, etc.). In São Tomé, cocoa is traditionally cultivated by means of agroforestry.
To learn more
THE AROMATIC PROFILE OF Amelonado cocoa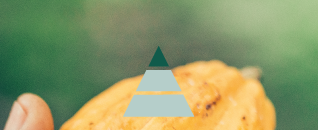 Top notes
Fresh fruit (apple-pear)
Nuts (almonds-hazelnuts)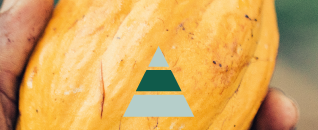 Heart Notes
Strong cocoa & chocolate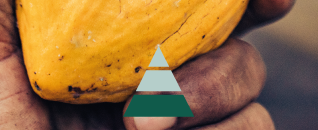 Base Notes
Dry woody
Heavy tobacco note
Caramel
WATCH A VIDEO ABOUT THE WONDERFUL STORY OF PEOPLE AND VALUES:
See how KAOKA saved the growing of aromatic cocoa in São Tomé through an exciting immersion in its volcanic lands and lush forests.
KEY FIGURES
20 years of actions
to relaunch the cultivation of cocoa in São Tomé, enabling São Tomé growers to earn a decent livelihood from their work.
890
hectares of plantations renovated and once again productive and remunerative
86,422
cocoa trees of the Amelonado variety have been distributed to our partner growers since 2018 to enable them to renovate their plantations and ensure them a sustainable income.
YOUR ORGANIC AND FAIR TRADE CHOCOLATES FROM OUR São Tomé COOPERATIVE