THROUGH OUR CSR POLICY, WE HAVE FORMALLY SET OUT THE APPROACH THAT HAS BEEN OUR DRIVING FORCE FOR ALMOST 30 YEARS.
At KAOKA, we have always advocated organic and ethical chocolate.
Because, in our opinion, these two criteria are inseparable, we have built a model of integrated programs that have proven their strength during this international health crisis. Today, the reconciliation of organic and ethical issues raises a new challenge: that of climate change and the resulting environmental transformations.
CREATING THE BEST ORGANIC AND FAIR TRADE AROMATIC CHOCOLATE
Selecting exceptional homelands and safeguarding traditional and aromatic varieties of cocoa in a permanent quest for taste and excellence.
65 varieties of aromatic cocoa have been selected by Kaoka and its partner growers since 2010.
Mastering and perfecting the art of enhancing cocoa beans to offer the most authentic flavour of chocolate.
100% of KAOKA cocoa is fermented and dried according to a precise and rigorous protocol.
Offering 100% of products with organic and fair trade certification, while meeting our customers' expectations.
Identifying and improving the entire life cycle of our products.
Kaoka chocolates are all made in France.
JOINTLY BUILDING A COMMON FUTURE WITH ALL OUR PARTNERS
Strengthening our healthy, transparent and sustainable relationships with all our partners, whether growers, organic store customers, distributors, manufacturers or artisans.
Advocating and innovating for a high standard of responsible organic culture.
1,987 quality controls throughout the production chain.
Ensuring the best working conditions for our team, so that it is united, fulfilled and invested.
BUILDING THE FUTURE OF THE COCOA SECTOR WITH GROWERS
Building an integrated program model based on production that respects Nature and people.
KAOKA is involved with approximately 5,000 growers' families, with whom we have drawn up objectives, as well as identifying their needs and introducing practical initiatives.
Contracting long-term partnerships with growers in a spirit of co-development and interdependence, meaning that we can grow together.
Almost 20 years of partnership in cocoa programs in Ecuador and São Tomé.
Promoting regenerative agriculture to sustain cocoa production and the profession of growers faced with the challenges of climate change.
1,500 ha of plantations renovated since 2010.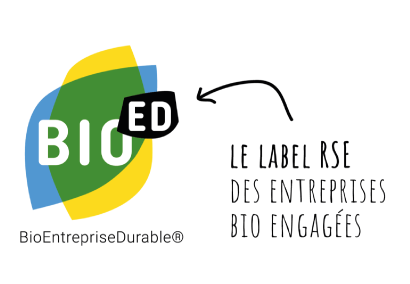 Our Labelling
BioEntrepriseDurable (Sustainble organic company)
As part of our CSR approach, we have obtained the BioEntrepriseDurable (Sustainable Organic Company) label, awarded by Ecocert. This wholly independent label defends a sustainable food model: fairer, more transparent, more ecological.