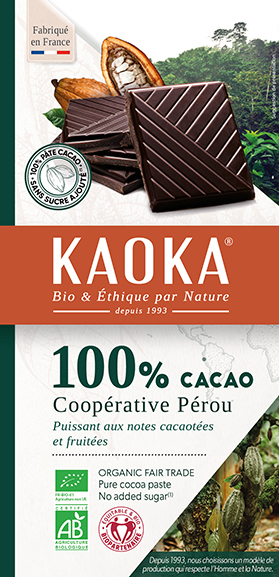 Dark 100% Peru- Pure cocoa mass
80g
Made in France
---
---
This 100% cocoa bar is made from cocoa beans from our organic and fair trade program in Peru. Peruvian cocoa offers a smooth fruity chocolate. Its cocoa-like character is sublimated by delicate citrus notes and fruity overtones of hazelnut and raspberry.
With no added cocoa butter and no added sugar*, this organic and fair trade chocolate bar is what we call pure cocoa mass. The ideal chocolate bar for lovers of powerful chocolate who follow a diet with no added sugar.
*Contains naturally occurring sugars.
Aromatic profile
Head note
citrus, red berry
Note of heart
malted, strong cocoa
Background notes
dry woody, tobacco


no lecithins
no added cocoa butter
no added sugar*
THE VALUES AND ACTIONS YOU SUPPORT WITH THIS CHOCOLATE
FROM OUR PERUVIAN COCOA PROGRAM
Kaoka's Peruvian program was created in the Ucayali region, in an area formerly controlled by drug trafficking. A cooperative in partnership with a community of growers, who all came together with the desire to grow quality cocoa and to preserve an endemic ecosystem, the Colpa de Loros.
49,300 trees
from 15 different species planted in 2019 and 2020 through our agroforestry program
86 ha
of renovated plantations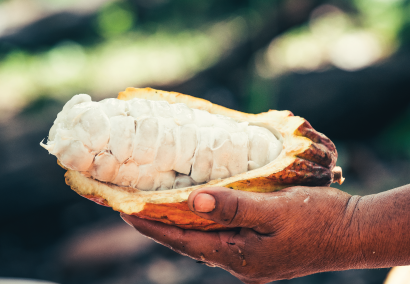 OUR KNOW HOW
At Kaoka, nothing is left to chance
Guided by our passion for cocoa and enriched by our direct collaboration with the growers, we are involved at all stages to guarantee you high quality chocolate. Find out how we work, from varietal selection to the formulation of recipes, to make intensely tasty chocolates.
Find out more